The Daily Star : Internet Edition
reported
between 2006 and 2012
Fishing Cat cubs recovered in Panchagarh on 16 March 2006 died as the authorities did not take them into their custody.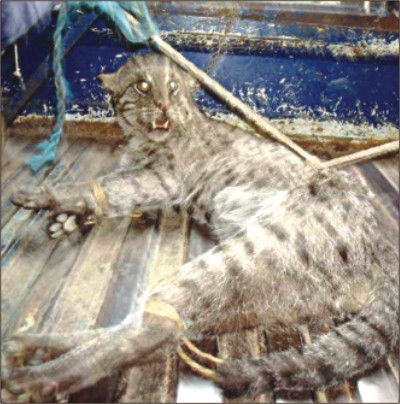 In April 2008, local people captured this Fishing Cat in Chapainawabganj. Police recovered the animal and handed it over to Rajshahi Zoo with the help of the forest department.
In January 2009, local people in Barisal captured and beat up this Fishing Cat Forest Department officials and police later rescued the animal, which was in a critical condition.
In February 2009, villagers beat a Fishing Cat to death in Barisal using rods and sticks. They dumped the body near a river.
In March 2009, villagers in Natore beat a Fishing Cat to death after it had attacked a domestic animal in a neighbouring village.
In March 2009, a Fishing Cat attacked a farmer in a paddy field. The farmer raised a hue and cry, other villagers rushed to the spot and beat the animal to death.
A Fishing Cat escaped from Rajshahi Central Zoo in January 2010. Local people chased the cat along with their dog, which grabbed the cat's neck. The villagers beat the cat to death.
In April 2010, villagers killed a Fishing Cat in Manikganj with fishing spears.
In May 2010, a farmer saw a Fishing Cat in his field in Kushtia. He called other villagers through his mobile phone who came with sticks and iron rods. Together, they encircled the field, caught the animal and killed it on the spot.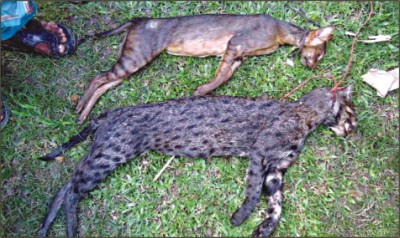 In October 2010, local people searched a jungle near Kholapara in Singair Upazila of Manikganj violating laws. They found and beat to death a Fishing Cat and a Civet.
People of Balati village in Netrakona district caught this Fishing Cat in February 2011 and handed it over to the forest office.
In March 2011, locals in Louhajang hit a Fishing Cat with a cleaver to death. Livestock officials tried to keep alive its three cubs.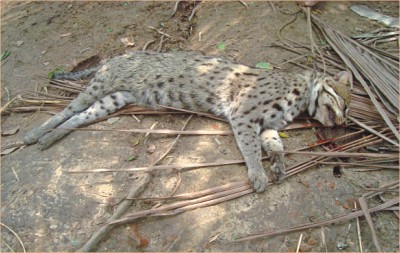 In early May 2011, villagers of Dhakdhol in Natore caught and strangled a Fishing Cat when it entered a local poultry farm.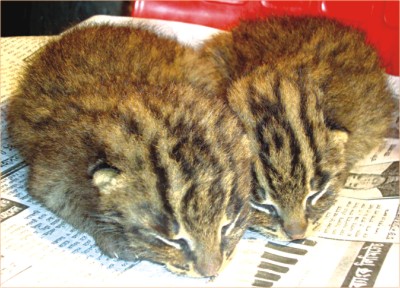 Two Fishing Cat cubs were rescued in Dhakdhol Dangapara village in Singra upazila of Natore on 12 May 2011.
In February 2012, indigenous hunters from Rajshahi trapped and killed six Fishing Cats in Kushtia.
In March 2012, this Fishing Cat was caught by locals near Hakaluki Haor in Moulvibazar district and later released to Lawachhara National Park.
In April 2012, locals beat this Fishing Cat dead at Kalikagaon village in Sadar upazila of Thakurgaon.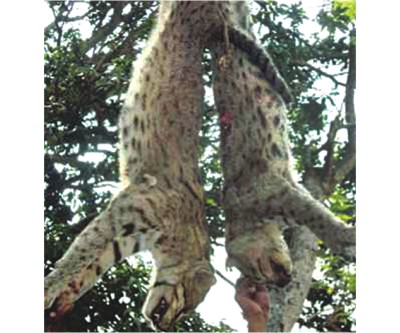 In May 2012, villagers in Belgachi killed and hanged two Fishing Cats.