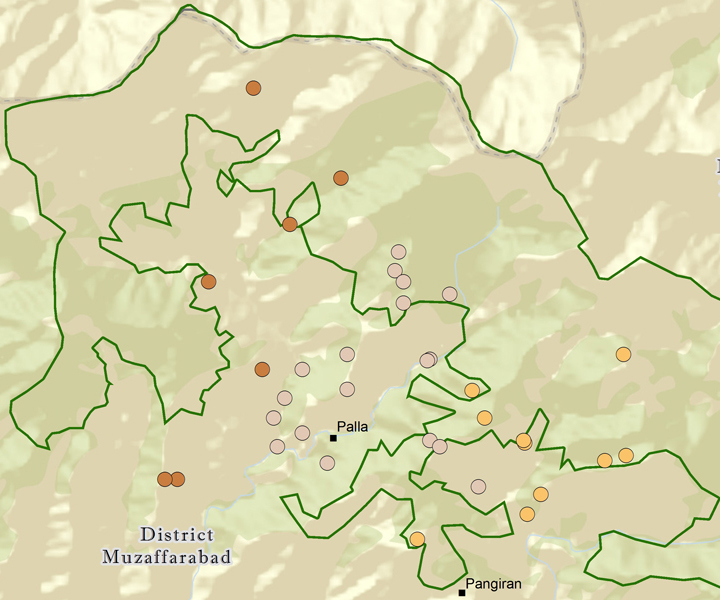 In the map to the right, circles mark verified livestock depredation events by leopards between June 2007 and August 2008 in and around the MNP.
During the study, 301 livestock were reported to have been killed by leopards in the MNP. Most livestock were killed in the Machiara study site (44.52%, marked by

), followed by Behri (32.89%, marked by

) and Sarli Sacha (22.59%, marked by

). Leopards depredated on livestock throughout the year, with 29.9% of all cases occurring in May, followed by July (10.96%), June (10.73%), and August (9.97%). Most livestock were killed at night (58.8%), at sunrise (18.27%), sunset (12.29%), and during daytime (10.29%). Goats (42.52%) were the most depredated livestock species, followed by dogs (26.25%) and sheep (23.59%).
Leopard kills were correlated with the terrain of the study sites. Most kills were made in the valleys (44.85%), followed by steep slopes (26.57%), gradual slopes (22.25%), and flat areas (6.31%). Our analysis of herding practices revealed that most livestock were guarded by a shepherd and a dog (47.5%) followed by dogs only (39.2%). A small proportion of herders (12.62%) did not employ any herding practices. We found that maximum kills were recorded in the summer pastures (39.86%) followed by forest (29.23%), agricultural land (23.58%) and inside corrals (7.3%). About 44.85% of the depredated livestock were killed more than one km away from the nearest forest.