Camera-trapping was carried out in eastern Bamu during 28 September — 20 October, 2—23 November 2007, 19 December 2007 — 11 January 2008, 4—24 February and 25 February — 17 March 2008 for a total of 106 days, using passive camera-traps.

To maximize capture probabilities over the largest possible area, camera-traps were set up along established leopard trails on ridge tops and in valleys as evenly and closely as possible so as to capture all leopards. The spacing between camera-traps was 2–2.5 km, which corresponds to the diameter of the smallest leopard home range. Cameras were mounted at c. 40 cm above the ground on posts made of flat stones and sometimes on trees. Each camera-trap station consisted of 2 camera-traps placed on the opposite sides of a trail so as to photograph both flanks of leopards. The camera-traps were set for 24-hour operation, two photographs per sensing, and with a 1-minute delay between subsequent photographs.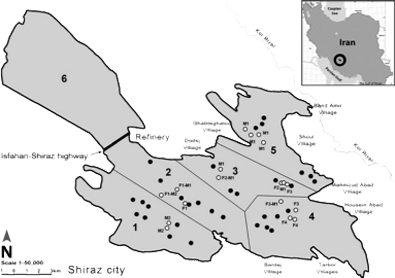 The circle on the inset indicates the location of Bamu National Park in southern Iran.
For convenience the area was divided into five topographically distinct areas and these were camera-trapped sequentially. White circles are the stations with captures of leopards with individual IDs, and black circles are the stations without captures.